Broken Key Extraction
Don't just leave the key in there, Remove that broken key fast.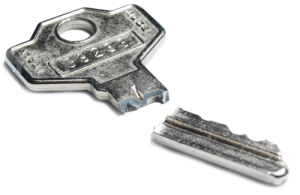 Picture this, your running late for your child's soccer game. You run out the door and turn around to lock your house, put the key in, turn to the right and snap! Your hand keeps turning but the shaft of the key is now stuck in the house. You try sticking your fingers in the lock, maybe even getting some tweezers to get the key out, but there is no luck. The key is in there for good. To make the game, you are going to have to do some Broken Key Extraction or removal!
If this has happened to you we recommend giving Pros On Call a ring to help you remove and do the broken key extraction. Getting a broken key out of a lock is no easy procedure, it takes time and a bit of skill. We have heard horror stories of people taking hours to get the key back, only to rip open their fingers in the process. Let us be the first to tell you that its not worth it!
We are trained professionals, with over 30 combined years of experience, all fully insured and bonded. Take a look at our facebook page if you don't believe our success! We will come over to your house in under 30 minutes and take care of the problem for you.
Pros On Call is not like some of the other locksmiths that quote you one price, then give you another when arriving. The quote you receive on the phone is what you will pay when we arrive. We pride ourselves on our integrity, so we would not want to lose your trust as our customers. Repeat business is key for us, so if you ever have a problem after your service, our management team will be happy to take a look for you.
One thing we can save you money on is replacing your key from the two pieces of broken keys. Good locksmiths like Pros On Call will actually fuse the two together to make a like new key!
How to prevent your key from breaking?
One thing to help prevent your keys from breaking is to make sure they are in good condition. Take out your key ring and check the point where the shaft joins the head. That is usually the part that starts to weaken, as you use your keys hundreds if not thousands of times. If you see any cracks in the keys, or imperfections, they are at risk of breaking soon. If that's the case go ahead and get your keys replaced.
Another important thing is to make sure that you don't have any cheap aluminum keys. Aluminum is very prone to breaking and won't last more than a year. Your better off spending a few extra dollars to get a nice metal key. If you are not sure what key or key size to get, we can help you with that as well.
Pros on Call does key replacements as well, so if that's a need for you, let us know. While we come out to extract your key, we can check your other keys to see what the quality is like. If they are bad, we can replace them right there for you. Ask about our discounts for military members!
Ready to get your broken key extracted? Give us a call today at 737-800-9999!