Call Pros On Call for the Latest in Biometric Locks and Access control. POC specializes in biometric lock installations and other integrated systems for your office. Biometrics are the latest in security solutions, allowing you to be sure only your employees are entering your building.
Traditional ways people gain access are through token-based ID systems such as through a drivers license, where each person get's their own number. The other way people get access through systems are through knowledge identification, such as through a password. The problem with knowledge based systems is that people forget their passwords. For token based system, they might also lose their token.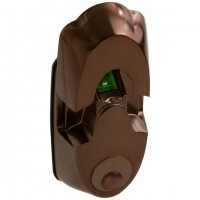 At the end of the day, the most reliable way to get a unique access for each person is through Biometrics because Biometric Locks and Access Control systems do not have these same vulnerabilities.
Any one can steal a key, thus leaving yourself and your business open to security threats. Once a criminal gets a hold of one of your employee's keys, it's just a matter time before they strike. If you have many employees and keys for each employee, it's time to step up your security system with Biometric Locks.
Biometric Systems are those that use your actual biology to identify you vs someone else. We normally think of these as maybe checking fingerprints, but it can be things like odour, scents, or facial recognition. At Ben Guyon airport in Tel-Aviv, they use complete facial recognitions for every individual that enters the airport!
Today Biometrics are used by the biggest government organizations and multi-national companies. Shouldn't you trust in the same security system used by the White House! Having systems scan your eye or finger is something normally reserved for a sci-fi movie, yet the movies are now today's reality. Today, you can even see Biometrics being used at Disney when you enter the resorts.
New advancements in Biometrics make it priced very cheap. For less than $500 you can buy Biometric Fingerprint Time clocks, to make sure your employees are actually working when they say they are.
For smaller organizations, it might be best to get a Biometric Deadbolt lock. The Biometric Deadbolt means you simply scan your fingerprint to make sure you get access. Your employees will love the ease of not having to carry around an access card. As a manager, you'll have peace of mind knowing only your employees can have access to your building.  Biometric Deadbolts can also be bought for less than five hundred.
We have the latest and greatest brands such as
Yale Touchscreen Deadbolt Lock
Nextbolt Nx3
Kwikset Z-wave Deadbolt Lock
Westinghouse Z-wave Biometric Lock
Nextbolt nx4, nx5 Austin locks
Schlage Keypads
Yale Real Living Touch
Ready to get a Biometric lock or entry system installed in Austin Texas? Call us now!