Why wait lockout out of your Toyota when we guarantee that we will be there in under 30 minutes?
Our 30 minutes or less Toyota lockout services are hard to beat. All of the happy customers that we serve here at Pros On Call are always amazed by how we are able to make it to their location so quickly. Well, the answer is quite simple; we have a number of technicians on call across the Austin area. We then send our tech who is closest to you. If you live within 30 miles of Downtown Austin we will arrive in less than 30 minutes.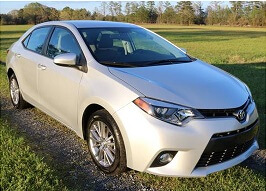 Don't risk damaging your Toyota vehicle in the wrong hands.
Toyota cars and trucks require the use of special tools in order to unlock the doors. Not all automotive locksmiths in Austin carry the right equipment to unlock Toyota's. Many of them will cause slight damage to the door jam and window frame when opening your door. This sort of damage never happens when you hire our Toyota car lockout services.
Providing Toyota car lockouts for the classic and latest models.
We have worked on just about every model Toyota to ever arrive on American soil. This includes the Toyota's from the 1970's all the way to the latest 2017 models. With such an in-depth understanding of Toyota's you will feel confident that we will be able to provide you with the up most quality Toyota lockout services that are professional and performed correctly.
4Runner
Avalon
Camry
Corolla
Estima
FJ Cruiser
Highlander
Hilux
Hiace
Pickup
Tacoma
Tundra
Paseo
RAV4
Sequioa
Sienna
Yaris
Cressida
Tercel
T100
You can
relax now

because our friendly technicians make the whole process painless.

When you have lost your Toyota keys or locked them in your vehicle you can become frustrated. We deal with it everyday here at Pros On Call. Our technicians are specifically trained to cater to your bad day by doing what we can do to make your day better, like it never happened!
Toyota's are a special make of vehicle and need a specialist to open the doors.
Toyota's require highly specialized training in order for the automotive locksmith not to damage the vehicle when they are unlocking the doors. Our locksmiths here at Pros on call are placed through training courses that teach them extensively all of the different model Toyota's to insure that they will be able to effectively open our valued customers Toyota doors and cause absolutely no damage to them. Why do we go to such extreme lengths? Because we care and our reputation is at stake!
Save our phone number now so that we will always be right by your side. (737)800-9999
Most of our customers choose to save our phone number into their cellphones so that if this sort of thing ever happens again they will be able to have us come out right away without searching the internet to locate some random Toyota lockout service to come and rescue them. Think of it like this, we are your security and peace of mind when you are out and about driving around Austin Texas. Give us a phone call now (737)800-9999.