Your best choice for garage door servicing in Austin.
Like anything in life there will be periods of time that you will need to service your garage door. To keep your garage door functioning correctly you will need to hire a company that specializes in garage door servicing. Even if your garage door is not currently exhibiting any symptoms of disrepair it is recommend that it be thoroughly inspected
once a year
. A thorough inspection not only insures flawless operation of your garage door, but insures the safety of it as well because of the potential hazards of the garage door falling or when the sensors that stop the garage door from closing fail.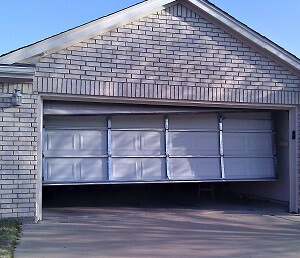 Garage door services for all of your needs.
Our garage door services will help you with all of the problems that you are having. Is your garage door experiencing any of the following symptoms or in need of maintenance? If so call us now and we will speak with you to remedy a solution. (737)800-9999
Preventative maintenance services
Annual inspection
Drop test fire door
Replace broken panels
Broken/bent tracks
Rollers broke or bent
Cables failing caused by wear
Torsion spring failing
Garage door spring failure
Opening/closing issues
Sensors stop working
Grinding noises upon opening
Motor failure
Smell of burning wires
Shock hazards
Remote control failure
What kind of drive system does your garage door have?
To get familiar with the garage door serving jargon we have provided the following information. There are 3 main types of garage doors. This includes:
Chain drive garage doors:
The most
affordable
and common type of garage door is the chain drive. This type of garage door is low cost and has proven to be reliable. They open fairly quickly, but because of the moving components in the chain and gears this type of garage door is rather noisy.
Screw drive garage doors:
This type of garage door is built using a steel rod which has been threaded like a screw so that when the motor turns the screw the garage door opens and closes. While these systems are considered favorable because the have a
long life span
they take a long time to open the garage door.
Belt drive garage doors:
Belt drive garage doors are not quite as common but nonetheless they are found in many American homes. Belt drive systems use a belt to raise and lower the garage door. These types of garage doors are considered to be the
most quiet
option.
Your garage door is one of the most used entry points into your home. Make sure that it is in safe working condition annually.
Our garage door servicing business insures that your door will be safe and in top working condition. From simple visual inspection to garage door component replacement our services include the following:
Inspect mounting components.
Insure integrity of cables.
Check fasteners for tightness.
Insure mounts are solid.
Look for bent parts.
Check for loose parts.
Visual inspection for worn parts.
Inspect and test electrical system.
Check battery backup operation.
Check replace remote batteries.
Test auto-reverse function.
Lubricate the chain, screw or rollers.
Insure manual release works.
Test the balance of the door.
Check the garage door alignment.
Full safety check.
Torsion spring repair.
We have extensive experience servicing every type of garage door ever made.
Our garage door servicing business help the community of Austin with every type of garage door ever made. This includes the following garage door types:
Roller garage doors
Steel garage doors
Wood garage doors
Wood composite garage doors
Aluminum frame garage doors
Fiberglass garage doors
Vinyl garage doors
Panel garage doors
Swing out garage doors
Swing up garage doors
Slide to the side garage doors
Hire our garage door servicing business today.
Call now

(737)800-9999

Our garage door servicing company in Austin is available for free to come out and inspect your garage door. We are available 7 days a week. The hardest working garage door servicing business in Texas. Call now (737)800-9999