Enjoy A More Pleasant Working Space With New Door Closers Installed By Our Mobile Locksmith Experts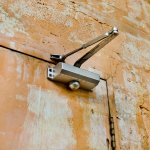 When an emergency or traditional locksmith services are required for a project, the crew at Pros On Call can help. If professional results matter, our services are worth considering because we've successfully served locals in various neighborhoods for years as licensed locksmiths. Since we're a reputable company, we never cut corners during locksmith projects; instead, we always strive to make the process of resolving security problems easier by calculating proper estimates for installations and repairs of door closers. In fact, door closers are one of our specialties.
Contact our commercial locksmith experts today to learn more!
Save Money & Request Service Online
Click the button below to fill out our easy Online Request Service Form and you can pick from your choice of coupon for the service you need.
This form provides our dispatchers with the information they need to process your request quickly and accurately so we can save you time and money.
Austin, TX
Houston, TX
Dallas, TX
Fort Worth, TX
New York, NY
El Paso, TX
San Antonio, TX
Phoenix, AZ
Phoenix, AZ
Chandler, AZ
Sun Lakes, AZ
Glendale, AZ
Paradise Valley, AZ
Glendale, AZ
San Tan Valley, AZ
Killeen, TX
Bastrop, TX
Brownsville, TX
Buda, TX
Cedar Park, TX
Cibolo, TX
Corpus Christi, TX
Georgetown, TX
Grand Prairie, TX
Harlingen, TX
Kyle, TX
Lakeway, TX
Leander, TX
Leon Valley, TX
Converse, TX
Katy, TX
McAllen, TX
New Braunfels, TX
Seguin, TX
Chicago, IL
Fort Lauderdale, FL
Miami, FL
Universal City, TX
Waco, TX
Pflugerville, TX
Round Rock, TX
San Marcos, TX
Schertz, TX
Spring, TX
Arlington, TX
Bellaire, TX
Garland, TX
Irving, TX
Plano, TX
Sugar Land, TX
Steiner Ranch, TX
Door Closers
Save Money And Enhance Your Work Space Conditions
Austin, TX
Houston, TX
Dallas, TX
Fort Worth, TX
New York, NY
El Paso, TX
San Antonio, TX
Phoenix, AZ
Phoenix, AZ
Chandler, AZ
Sun Lakes, AZ
Glendale, AZ
Paradise Valley, AZ
Glendale, AZ
San Tan Valley, AZ
Killeen, TX
Bastrop, TX
Brownsville, TX
Buda, TX
Cedar Park, TX
Cibolo, TX
Corpus Christi, TX
Georgetown, TX
Grand Prairie, TX
Harlingen, TX
Kyle, TX
Lakeway, TX
Leander, TX
Leon Valley, TX
Converse, TX
Katy, TX
McAllen, TX
New Braunfels, TX
Seguin, TX
Chicago, IL
Fort Lauderdale, FL
Miami, FL
Universal City, TX
Waco, TX
Pflugerville, TX
Round Rock, TX
San Marcos, TX
Schertz, TX
Spring, TX
Arlington, TX
Bellaire, TX
Garland, TX
Irving, TX
Plano, TX
Sugar Land, TX
Steiner Ranch, TX