Professional Home Lockout Solutions
Stress Less With Our Home Lockout Services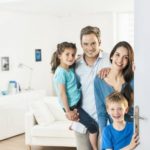 It can be frustrating, or even scary, to discover that you have lost, forgotten, or misplaced the keys to your house or apartment, especially late at night.
What to do when you are locked out of you home:
Sooner or later, it is likely that all of us will experience a lockout situation, particularly at home. Luckily for you, the experts at Pros On Call are standing by to provide fast and reliable home lockout services. Our residential locksmiths are available 24/7 and our mobile units are equipped to handle just about anything.
Call right now if you are experiencing:
A house lockout
An apartment lockout
A lockout for any type of exterior door (front doors, back doors, sliding glass doors to your balcony, etc…)
An Interior door lockout (the bedroom, bathroom, closet, attic, pantry, cabinets, tool boxes, etc…)
Shed door lockouts
Garage door lock issues
No matter what kind of lockout problem you are experiencing, or what types of locks you have, we have the tools and expertise to get you back in. And, we can get you new replacement keys on the spot!
If you are currently locked out of your home, contact Pros On Call. Our dependable and licensed 24-hour mobile locksmith services can have you back inside your home, safe and secure, very quickly.
Save Money & Request Service Online
Click the button below to fill out our easy Online Request Service Form and you can pick from your choice of coupon for the service you need.
This form provides our dispatchers with the information they need to process your request quickly and accurately so we can save you time and money.
Austin, TX
Houston, TX
Dallas, TX
Fort Worth, TX
New York, NY
El Paso, TX
San Antonio, TX
Phoenix, AZ
Phoenix, AZ
Chandler, AZ
Sun Lakes, AZ
Glendale, AZ
Paradise Valley, AZ
Glendale, AZ
San Tan Valley, AZ
Killeen, TX
Bastrop, TX
Brownsville, TX
Buda, TX
Cedar Park, TX
Cibolo, TX
Corpus Christi, TX
Georgetown, TX
Grand Prairie, TX
Harlingen, TX
Kyle, TX
Lakeway, TX
Leander, TX
Leon Valley, TX
Converse, TX
Katy, TX
McAllen, TX
New Braunfels, TX
Seguin, TX
Chicago, IL
Fort Lauderdale, FL
Miami, FL
Universal City, TX
Waco, TX
Pflugerville, TX
Round Rock, TX
San Marcos, TX
Schertz, TX
Spring, TX
Arlington, TX
Bellaire, TX
Garland, TX
Irving, TX
Plano, TX
Sugar Land, TX
Steiner Ranch, TX
Professional Home Lockout Solutions
Call Now And Local Experts Will Arrive In 30 Minutes Or Less
Austin, TX
Houston, TX
Dallas, TX
Fort Worth, TX
New York, NY
El Paso, TX
San Antonio, TX
Phoenix, AZ
Phoenix, AZ
Chandler, AZ
Sun Lakes, AZ
Glendale, AZ
Paradise Valley, AZ
Glendale, AZ
San Tan Valley, AZ
Killeen, TX
Bastrop, TX
Brownsville, TX
Buda, TX
Cedar Park, TX
Cibolo, TX
Corpus Christi, TX
Georgetown, TX
Grand Prairie, TX
Harlingen, TX
Kyle, TX
Lakeway, TX
Leander, TX
Leon Valley, TX
Converse, TX
Katy, TX
McAllen, TX
New Braunfels, TX
Seguin, TX
Chicago, IL
Fort Lauderdale, FL
Miami, FL
Universal City, TX
Waco, TX
Pflugerville, TX
Round Rock, TX
San Marcos, TX
Schertz, TX
Spring, TX
Arlington, TX
Bellaire, TX
Garland, TX
Irving, TX
Plano, TX
Sugar Land, TX
Steiner Ranch, TX