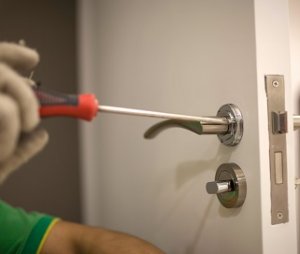 When it comes to keeping your family and home safe, there are a lot of tools available. Home security systems, gates, or privacy walls are costly installs that can help. One highly cost effective method of securing your property though is deadbolt lock installation.
Homeowners sometimes opt for the big security package, but fail to think of smaller things that are proven to be just as, if not more, effective in keeping their homes safe. A deadbolt lock is fashioned for security. There is a steel bold that fits into the door jamb and it has a strike plate around it. There are two types of deadbolt locks- single cylinder and double-cylinder.
A single-cylinder deadbolt is the most common. It will have a twisting knob on the inside of the door on the outside will be a key. People like these because they offer security, but also are convenient for those inside the house. A double-cylinder deadbolt requires a key to open it from the inside and out.
The FBI recently cited 1.9-million burglaries in the US throughout 2014, resulting in over $4-billion in property loss. About sixty-percent of those burglaries were forced entry. Having a deadbolt can create just the obstacle a burglar doesn't want. If you have them successfully installed, hopefully a burglar will move on to another target.
In order for your lock to work properly, you should have professional deadbolt lock installation. This also is not a place where you should skimp on cost. You want a lock that is made with a hardened steel bolt. This is going to help protect against someone kicking the door in with force. It's also important to know that when someone typically kicks at a door, the frame is what caves and not the door. Because of this, you should always use 3-inch screws as reinforcement for the strike plate and studs.
Deadbolt lock installation should be done by a professional residential locksmith. Although it is easy to get a cheap knob at a local dollar store, remember what you are protecting. You want to make sure your family and household are safe at all times. A skimpy lock is not going to give you the power or security you need. Find a qualified and experienced professional who knows what they are doing to ensure that you're on the right track for true safety when you are at home.
If you have deadbolt lock installation, always remember to use it. A recent study showed that people out of convenience, opted to use the doorknob lock rather than their deadbolt. Although convenience is important, security should be higher on the list of priorities. By using the deadbolt and doorknob, you hopefully will create a losing situation for anyone wanting to gain forced entry to your home, family and belongings.