It's not enough to just lock your front door when you leave for work in the morning. You need to use a deadbolt, too. A heavy-duty one, preferably with a steel core and at least 1-inch throw bolt length. It should also have an anti-pick shield on it so that burglars can't break in by using tools like screwdrivers or ice picks.
The reason for this is simple: security experts say that if someone has half an hour of uninterrupted time inside your home, they're likely to get away with all kinds of things – including stealing your valuables. If you don't want thieves posing as delivery people or repairmen gaining access into your house while you're out, make sure every exterior door is fitted with a deadbolt lock. This article will discuss what a deadbolt lock is, how it works, and why they are important for home security.
The importance of deadbolts for home security is often overlooked.
A deadbolt should be used on all exterior doors, especially if they are located in high crime areas or near points of entry such as windows or balconies. Deadbolts should not be installed on interior doors because these only need to restrict access from inside the house.
The most important reason that a person would want to use a deadbolt is for safety reasons, but it can also deter burglars from breaking into homes by preventing them from easily entering through unlocked doors and windows when the homeowner is out of town or at work during daytime hours.
Deadbolts can also help to provide peace of mind to the homeowners and families that live in their homes.
What Is A Deadbolt Lock?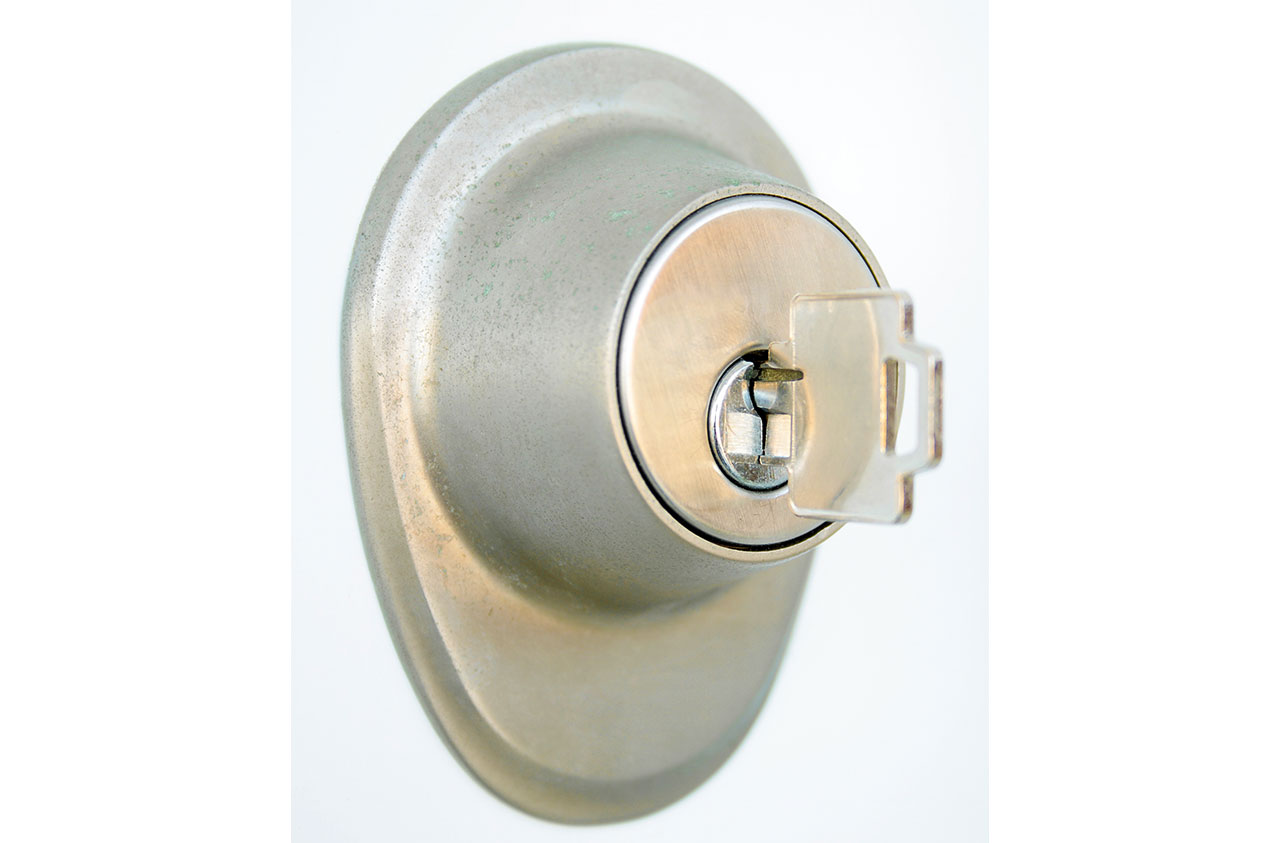 A deadbolt lock is a type of door lock or door lock hardware that is more resistant to picking, drilling, and prying than a conventional knob or lever locks; making these locks ideal for high traffic homes. The reason they are harder to pick is that the design of the lock prevents it from moving backward even if pins inside the lock are picked like normal pin tumbler door locks. This type of lock is found on exterior doors where security is a concern, but they allow for ease of use because they are typically keyed.
The difficulty in picking deadbolt locks comes from the way that they are constructed. The main difference between a deadbolt lock and other kinds of door locks, like spring-latch or doorknob types, is that a deadbolt has a free-floating bolt whereas other locks have stationary ones. The purpose of these surfaces is to prevent rotation and this serves as the main difference between a normal lock and one that is more secure. These parts both thrust into each other when they come together and work in unison after they are locked by the key.
A deadbolt has two main components which are the movable bolt and the lock itself. The bolt is connected to a metal rod that slides through the doorframe when it is in the locked position.
The purpose of this type of lock is to provide additional security at home while also making sure that people can easily get back in if they lose their keys or forget their keys inside. It's best to choose a deadbolt lock that has at least one-inch throw length and is made of durable steel. If you're looking for an even more secure deadbolt, consider one that features two sets of bolts (the first bolt prevents you from opening the door without unlocking it or by using an additional tool like a crowbar or battering ram). As an added measure, you can also seek out a deadbolt lock with a pick-resistant shield to prevent burglars from breaking in by picking the lock.
How Does A Deadbolt Work?
A deadbolt is mounted into the door at least one inch from its edge and then it slides into another part of the doorframe when it's in the locked position.
When a key is inserted into this type of lock, a metal rod slides out from the inside and pushes up on a knob which retracts the deadbolt from its outside position, allowing you to open your exterior door by pushing or pulling on it. This type of lock usually only opens in one direction so the knob only turns clockwise. The process is reversed when you are finished using your door.
A double-cylinder deadbolt has two holes that accept a key, which means that both of the locks have to be unlocked by inserting a key into each hole before you can open them from either side. This provides additional security because it is much more difficult for burglars to get into the home when there are two locks that they have to unlock.
How To Change A Deadbolt Lock?
Each type of deadbolt lock has a specific installation process and to complete this task, you will need: deadbolt lock set screws (this connects the whole unit), drill bits, a pencil, screwdriver set, and the new deadbolt lock.
The first step of this project is to (1) remove all of the parts from your current deadbolt lock and clean it with an alcohol-soaked cloth. If there is any residue from the old screws, you may need to scrape them off using a flathead screwdriver.
After this, you should (2) measure the width and length of your current deadbolt lock. You can do this by using a ruler or another type of measuring device to get the exact measurements before you head out to buy a new one. If you don't have any tools at home, most hardware stores will lend them to you (for free) if you bring the old lock with you.
Once you've found the perfect lock, (3) decide where to place it on your door based on how it is mounted, and then (4) mark the areas that need to be drilled into the door. Make sure that you measure twice before drilling because this step requires precision. After marking these areas, (5) use a drill bit slightly smaller than the holes that need to be drilled into the door. The depth of these holes should be around 5/8 inches.
Once you have the pilot holes, you are ready to (6) start drilling through your door. Make sure that you do this slowly because it's easy to make a mistake near this step which can cause permanent damage to your door. You can either drill these holes by hand or you can use a power drill to make the process easier and more efficient.
After this, take your deadbolt lock outside, remove it from its packaging, and (7) insert each of the screws so that they line up with the pilot holes on your door. You can (8) tighten these screws using a screwdriver.
After this, (9) use a pencil to mark the areas of the door where you will make additional holes in order to attach it to your doorframe. After marking these areas, (10) drill pilot holes similar to how you did before and then move on to drilling with a slightly larger drill bit (the size of this drill bit will depend on your lock, so you will need to check the manufacturer's instructions).
This step is where you (11) attach your deadbolt lock to your doorframe and depending on what type of screws and washers come with it, you may be able to skip some steps. For example: if it comes with self-drilling screws, all you have to do is drill the holes and then screw them in. Once you've completed this step, make sure that the lock is parallel to the ground. Next, if your new deadbolt lock set didn't come with a strike plate for attaching it to your doorframe, you will need to purchase one separately. Check the manufacturer's instructions for specific installation instructions because they can vary from lock to lock.
Once you have attached all of the pieces, put your key in and then test out the deadbolt lock by pushing on the door while inserting your key. If everything is properly installed, it should open without any problems even if you push down on the door. In addition, if your old deadbolt was a double-cylinder lock, you should convert it to a single-cylinder deadbolt lock. This will make your home much safer because if a burglar encounters this type of lock and is unable to open the door, they won't be able to force their way in because there will be no other way for them to get inside.
Fail-Proof Home Security
A deadbolt is one of the most important locks to have on your front door because it is the only lock that operates by locking both sides of a door. If someone tries to break into your home, they will not be able to unlock the door from the outside if you install a single-cylinder deadbolt lock which makes this lock the most effective of all door locks.
An important safety rule to follow is to make sure that you keep your keys in a safe place. If your keys are easily accessible, they might fall into the wrong hands which makes it easy for burglars to use them since all deadbolt locks have similar keyholes. Avoid placing these keys on top of the doorframe where another lock would be located. Instead, you should put them in a key box outside of your home or conceal them inside your doormat which makes it harder for someone to find them. If you have pets, don't just place the key down on the floor because it's too simple for burglars to use this as a way to enter your home because they would only have to step on the key in order to pick it up.
If you are unable or unwilling to spend money on an expensive deadbolt lock, another great option is to use a sliding bolt lock which will make it much more difficult for someone to get inside of your home while still staying within your budget. You can install this type of lock on the back door if it is used frequently.
The most effective way to keep your home safe from intruders is to combine a high-quality deadbolt lock with additional locks that secure your home from the inside such as peepholes, window locks, and security bars. Remember that one of the best ways to keep your family safe is to invest in quality door locks that are available at affordable prices.
Why do I need a deadbolt lock for my home?
Everyone has heard the horror stories of how someone was locked out of their house and tried to break in through a window only to find that the burglar was already inside. As you probably know, there are simply too many ways for criminals to enter your house if they want to do so which is why it's absolutely necessary to install deadbolt locks on every door in your home.
Why? The answer is simple: Deadbolts can't be pried open like regular door locks which means it's the only type of lock that will prevent burglars from breaking your door down. Surprisingly, more than half of the home invasions happen through windows and doors even though many homeowners don't realize how easy it is for someone to access their homes through these routes.
While you might assume that deadbolts are way too expensive for your budget, you'll be surprised to find out that they are actually quite affordable. It's true that professional locksmiths charge a small fee to install these types of locks but it's important to understand why this investment is absolutely necessary. Some people mistakenly believe that if the door frame itself has strong locks then they should be able to save money by only installing a deadbolt lock.
While this might sound like a good idea at first, you need to keep in mind that the door and the door frame have to be broken down in order for someone to enter your home which means it's nothing more than a simple illusion of security. The truth is, you could invest in an ironclad door frame but it only takes about 30 seconds for burglars to break down your home's wooden door which means deadbolt locks are the only solution that will actually protect your family.
As long as you understand why deadbolt locks are so important for your home security, it should be easy to see why it's important to make sure you invest in the best locks possible. Although many people are tempted to follow a DIY installation process, it should be strongly noted that this option doesn't offer any protection against burglars since deadbolt locks need to be installed by professionals who have the necessary tools for this task.
Pros On Call provides high-quality locksmith service
Our professional locksmiths have many years of experience in the field which means you can be assured that we will arrive on time at your home or business with the necessary supplies to get the job done right. We even offer 24-hour emergency lockout services to ensure that no matter when you run into a security issue, we will be there to help without delay.
If you are looking for a locksmith, give us a call today at (888) 601-6005!